January 18, 2022
Diversity Programs Office Spring Update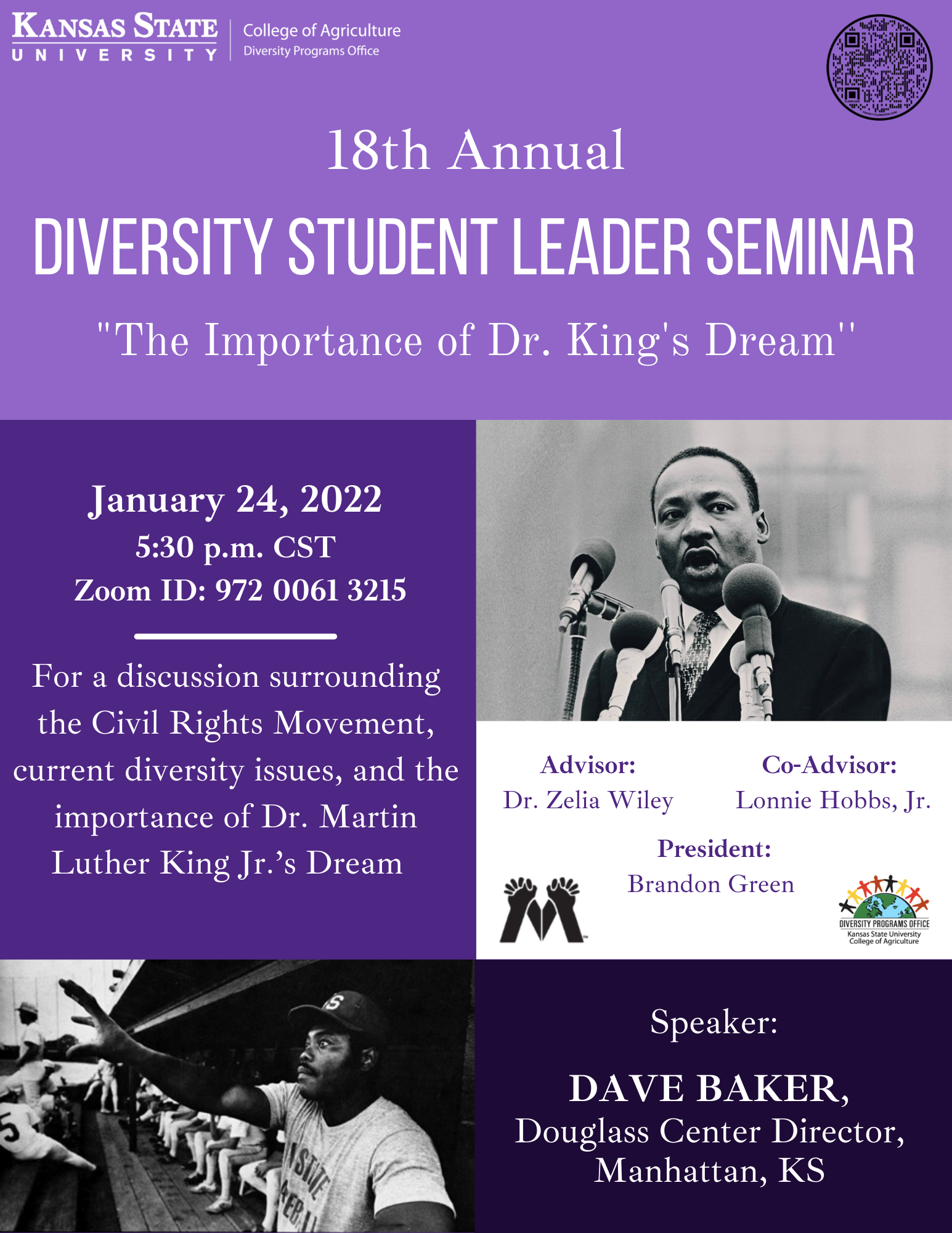 Welcome Back!
We hope all are returning to campus safe and healthy. As the spring 2022 semester is getting started, the College of Agriculture/KSRE Diversity Programs Office (DPO) and Dr. Zelia Wiley would like to welcome back Lonnie Hobbs, Jr., Raymond Thomas, Sydney Besa, Zenzele Asante, Sarah Weekes, Selena Gilyot and Sanders Barbee to the office. The DPO would also like to congratulate and welcome Summer Santillana to the position of Diversity Programs Office Coordinator. We are looking forward to a successful semester with our DPO Team.
Please mark your calendars and join the DPO and the K-State Minorities in Agriculture, Natural Resources, and Related Sciences (MANRRS) Chapter in our events this semester. Next week, January 22-28, is the Kansas State University Martin Luther King Jr. Observance Week. The week is to honor Dr. Martin Luther King Jr.'s legacy. HandsOn K-State is kicking off the week's events with the annual Martin Luther King Jr. Day of service on Saturday, January 22. If you or your organization would like to participate, please visit their website. The DPO and K-State MANRRS will also be hosting our annual Dr. Martin Luther King Jr. Student Leader Reception on Monday, January 24, from 5:30-7 p.m., Zoom ID: 972 0061 3215 as part of the week's events. Join us for a discussion surrounding the Civil Rights Movement, current diversity issues, and the importance of MLK Jr.'s dream with speaker Dave Baker, K-State Alumnus, Frederick Douglass Center Director and previous K-State baseball player and coach.
Your continued participation in our events is appreciated. Please continue to look for more diversity news and events as we continue to advertise or visit our social media pages to stay up to date on our current events (Diversity Prog Office- Kansas State University). If you require any additional information about these events or want to collaborate with the DPO, please contact Dr. Zelia Wiley at zwiley@ksu.edu or 785-532-5793.