April 23, 2019
Symposium on Bovine Anaplasmosis to be hosted by K-State College of Veterinary Medicine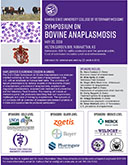 K-State's College of Veterinary Medicine will host its second Symposium on Anaplasmosis May 20, 2019 at the Hilton Garden Inn in Manhattan, Kansas.

The producer-oriented workshop will highlight the current state of anaplasmosis in the U.S. with an emphasis on Kansas beef cattle. The workshop will feature presentations by national experts on the economic impact of anaplasmosis, prevalence of anaplasmosis, anaplasmosis diagnostic considerations, anaplasmosis treatment and prevention, and the Veterinary Feed Directive. The meeting will include an interactive panel with producers describing their own experiences, challenges and ways of managing anaplasmosis. The symposium will conclude with an overview of anaplasmosis research projects at K-State and opportunities for producer participation.

Speakers include:
Dr. Hans Coetzee (K-State) Economic impact of anaplasmosis
Dr. Mike Apley (K-State) Veterinary Feed Directive
Dr. Roger (Bill) Stich (University of Missouri) Vaccination for anaplasmosis
Dr. Kathryn Reif (K-State) Implications of anaplasmosis strain diversity
Dr. Emily Reppert (K-State) Treatment options for anaplasmosis
Dr. Gregg Hanzlicek (K-State) Anaplasmosis diagnostic considerations
Dr. Brian Whitlock (University of Tennessee) U.S. prevalence of anaplasmosis
Admission: $25 for cattle producers and the general public. Cost of admission includes lunch and refreshments.
Admission for veterinarians seeking CE credit is $100.
Registration is available here: https://ksuvetmedalumniandevents.wildapricot.org/event-3291529.
For more information, email Dr. Kathryn Reif at kreif@vet.k-state.edu or call 785-532-5552.