March 28, 2023
Vaccinate with Confidence: Honest Conversations
Submitted by Stephanie Gutierrez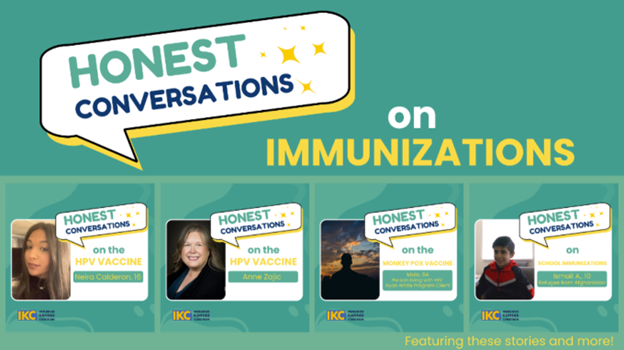 Immunize Kansas Coalition Launches Honest Conversations Campaign in partnership with K-State Research and Extension and Kansas State University's Office of Engagement.
About the Vaccinate with Confidence Project:
K-State Research and Extension and Kansas State University's Office of Engagement are working in collaboration with IKC and CDC to bring vaccine confidence to Kansas communities. This project aims to create better vaccine-confident outreach in Kansas communities and families through college students. IKC's Honest Conversations Campaign is a vital resource to encourage dialogue around vaccines.
About The Honest Conversations Campaign:
Through a grant with IDEO.org, Immunize Kansas Coalition (IKC) is piloting the tools in the National Resource Center for Refugees, Immigrants, and Migrants (NRC-RIM) Honest Conversations Toolkit to amplify immunization stories from Kansans, particularly those in refugee, immigrant, and migrant (RIM) communities. Using the Honest Conversations Playbooks, IKC engaged with Latino and Hispanic communities in Southwest Kansas, Sedgwick County, and the KC Metro to identify specific vaccinations with low vaccination rates and barriers to receiving them. Once identified, the conversation began, and stories were gathered from Kansans.
Featured stories and videos include Neira Calderon, a 16-year-old, and Michael Shull, D.O., talking about the HPV vaccine; Anne Zajic, a cervical cancer survivor, bringing awareness to HPV-related cancers; an anonymous 64-year-old male, sharing about the monkeypox vaccine; Ismail A., a 10-year-old from Afghanistan and Michelle Shull, RN, talking about school vaccinations.
Read the full list of stories and watch additional videos on the Honest Conversations webpage.
For more information, please contact Sakshi Bhati at sbhati@ksu.edu.